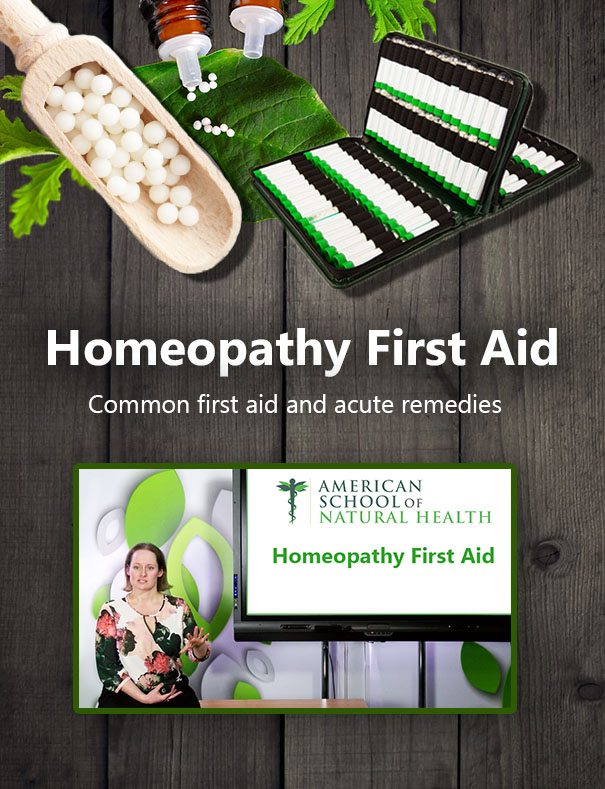 Common first aid and acute remedies
This short but comprehensive course will give you the confidence, skills and knowledge to select and use the best homeopathic remedies for a range of common conditions. Everyone who is suffering from bruising's, injuries, accidents, sport injuries, dental treatments, food poisonings, travel sickness, hay fever, hormonal imbalances etc. can recover fast using specific homeopathic remedies. You will be able to help yourself and your family with most minor everyday ailments and you will learn to recognize the conditions which require professional help, such as:
Physical trauma
Injuries/surgery
Bruising/Cuts
Jet lag
Travel sickness
Pregnancy
Children's health
Infections/diseases
Colic
Warts
Detailed handouts
4+ hours of filmed lectures
Final exam
(Textbooks extra at approx. $20)
Homeopathy First Aid Course
Homeopathy remedies are created from natural substances such as plants and minerals. There are over thousands of commonly used remedies and every single homeopathic remedy can be used to address a specific set of symptoms instead of giving the same remedy to every patient with the same diagnosis. Homeopathic remedies are created for every person based on complete symptoms displayed in addition to the diagnosis and the illness pathology. The Homeopathic philosophy is that disease originates from the disruption of a "vital force" that sustains life, which can be construed as the "engine" of a person, their mental and physical vigor and the capacity to live.
"Homeopathy cures a greater percentage of cases than any other method of treatment." Mahatma Gandhi.
Homeopathy First Aid Syllabus
What Is Homeopathy?
The History Of Homeopathy
Discovery Of The Law Of Similars
The Organon Of Medicine
Homeopathic Potencies
Making Homeopathic Remedies
Vital Force
Provings
Hering (1800-1880)
Hering's Law Of Cure
Suppression Of Symptoms
Results Of Suppression
What Remedies Made From
Remedy Repetition
Why The Remedy May Stop Working
When To Use Homeopathy
How To Take Homeopathic Remedies
Commonly Prescribed Remedies
Certificate of Completion
After you have completed this course, you will receive a Certificate of Completion.
Short online courses are not designed or intended to qualify its participants and graduates for employment.
It is intended solely for the avocation, personal enrichment, and enjoyment of its participants.