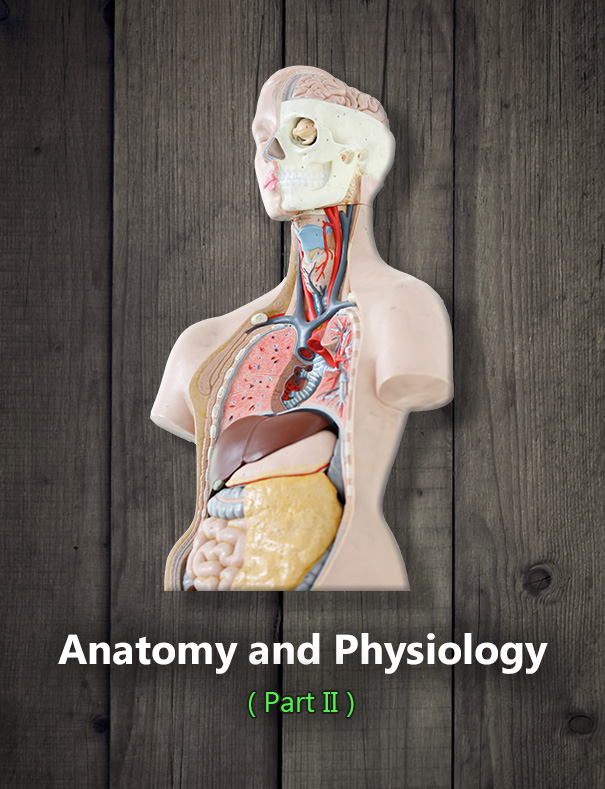 Anatomy and Physiology (Part II)
The Anatomy and Physiology course (Part II) gives you an in-depth understanding of basic Anatomy, Physiology and Pathology of all Organ Systems, like Urinary System, Reproductive System, Nervous System, Immune System, Sense Organs. 
It is of paramount importance for anybody dealing with patients to know how the body works, to understand physical symptoms and be able to recognize when to refer to a specialist.
9 detailed handouts
31+ hours of filmed lectures
Practice exams & exercises
USD $1275.00
or
6 installments
$298/mo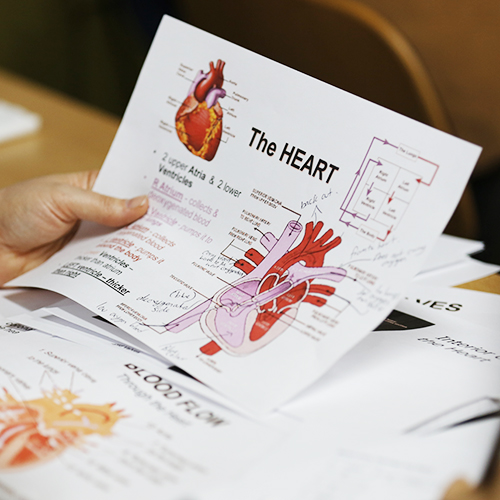 This course will give in-depth knowledge of the anatomy and physiology of healthy systems. This knowledge is vital for understanding the causes, mechanisms, clinical features and diagnosis of the diseases. The Anatomy and Physiology (Part I) will begin with an exploration of the basic terminology needed to understand the human body as you learn to name and locate key anatomical landmarks on the body surface and become familiar with the locations, structures and functions of the major bones, muscles, joints, nerves and organs. You will study cells, tissues and the anatomy and physiology of the cardiovascular, respiratory, digestive, endocrine systems and skin, always considering how these systems integrate to maintain balance in the healthy organism.
For each system you will study structure, functions and related concepts in biochemistry, then in the last part of the lesson you will look at the causes, signs and symptoms of key diseases in order to provide you with an integrated understanding of anatomy, physiology and pathology.
Anatomy and Physiology (Part II) Syllabus
Central nervous system (CNS)
Peripheral nervous system (PNS)
Peripheral nerves (all nerves not in the CNS)
Functions
Sensory
Integrative
 Motor
Autonomic nervous system
Sympathetic
Parasympathetic
Enteric nervous system
Histology
Neurones
Nerves
Schwann Cells & Myelination
Nerve impulses
Ion channels
Resting potential
Action potential
Conduction
Synapses
Chemical transmission
Neurotransmitters
Central nervous system
Protection
Cerebro-spinal fluid (CSF)
Blood brain barrier (BBB)
Blood supply to the brain
Brain
Blood supply to the brain
Cerebrum
Diepcephalon
Brain stem
Cerebellum
Spinal Cord
Peripheral nervous system
Cranial nerves
Spinal cord: physiology
Reflex arcs
Nervous system – pathologies
Alzheimer's disease
Parkinson's disease
Migraine
Headaches
Brain tumours
Epilepsy
Multiple sclerosis (MS)
Motor neuron disease
Phenylketonuria
Spina bifida
Meningitis
Sciatica
Neuritis
Bell's Palsy
Pathologies: CSF & meningeal
Hydrocephalus
Head injuries
Concussion
Contusion
Fractures
Lines of defence
External barriers
Internal barriers
Internal barrier – immune system.
External defences – 1st line of defence
Skin
Mucous membranes
Excretions
Pathogens
Internal defences – 2nd line of defence
Non-specific – proteins
Non-specific – antimicrobial cells
Non-specific – inflammation
Non-specific – fever
Body defence: Antigens
Internal defences – 3rd line of defence: Immune system
Lymphocytes: B & T cells
Antibody mediated immunity (humoral immunity)
Lymphocytes: T cells
Lymphocytes: self-tolerance & self-recognition
Adaptive Immunity
Cell mediated immunity
Cells of the immune system
Agranulocytes
Monocytes & macrophages
Monocytes
Macrophages
Eosinophils / Acidophils
Neutrophils
Granulocytes
Basophils / mast cells
Antibody mediated immunity (humoral immunity)
Immunological memory
Immune system – pathologies
Auto-immune conditions
Rheumatoid arthritis
Ankylosing spondylitis (AS)
Hashimoto's Thyroiditis
Grave's disease (Thyrotoxicosis)
Systemic lupus erythematosus (SLS)
Allergy
Anaphylactic shock
Pathologies – sexual
Gonorrhoea
Syphilis
Genital warts
Herpes – genital
Herpes – cold sores
Trichomoniasis
Chlamydia
Infectious agents
VirusesBacteria
Classification
Survival & growth
Types
Human microflora
Fungi
Infections (mycosis)
Survival & growth
Protozoa
Helminths
Pathologies
Infection – transmission
Microbes & the human body
Pathologies
Malaria
Measles
Mumps
Rubella
Chicken pox
Shingles
Impetigo
Whooping cough
Tuberculosis
Cellulitis & Erysipelas
Diphtheria
Scarlet fever
Cell cycle
Benign tumours
Malignant tumours
Spread
Types of cancer
Perceived causes
Mutation
Carcinogen
Carcinogenesis
Signs & symptoms
Causes
Risk factors
Local effects
Systemic effects
Warning signs
Diagnostic tests
Blood tests
Tumour markers
Imaging
Biopsies
Treatment
Surgery
Radiation
Chemotherapy
Other drugs used
Pathologies
Lung cancer
Breast cancer
Oesophageal cancer
Stomach cancer
Pancreatic cancer
Colo-rectal cancer
Polyps
Ppostate cancer
Bladder cancer
Testicular cancer
Cervical cancer
Ovarian cancer
Skin cancer
Lipoma
Leumaemia
Sight and the eye
Structure
Physiology of sight
Hearing and the ear
Structure
Physiology of hearing
Sound sensation
Balance and the ear
Physiology of balance
Volume & health
White noise
Sense of smell
Sense of taste
Pathologies of the ear
Otitis externa ('swimmer's ear')
Otitis media
Secretory otitis media
Chronic otitis media
Labyrinthitis (otitis interna)
Meniere's disease
Tinnitus
Hearing impairment
Pathologies of the eye
Blepharitis
Conjunctivitis
Stye
Uveitis
Retinal detachment
Strabismus (squint)
Muscae volitantes ('floaters')
Cataract
Glaucoma
Drug Effects
Classification and Naming
Pharmacokinetics & Pharmacodynamics
Administration
Chrono-Pharmacology
Absorption
Distribution and Transport in the Body
Receptors
Elimination (Detoxification)
Mode of Action
Dosages
Dosage Regimes
Adverse/Toxic Effects of drugs
Adverse Effects of drugs
Specific Adverse Effects
Drug Interactions
Drugs and Alcohol
Drug/Herb Interactions
Antimicrobial drugs
Musculoskeletal Drugs
Rheumatic Disease
Gout
Adverse Effects – Reye's Syndrome
Malignant Disease and Immune Suppression
Cardiovascular Drugs
Adverse Effects – Statins
CNS Drugs
Gastrointestinal Drugs
Respiratory System Drugs
Endocrine Drugs
Diabetes Drugs
Thyroid Drugs
Hormones
Skin
Anaesthesia
Allopathic vs. natural therapies
Stool analysis
Types of Test
M2-PK Tumour Marker
Urine analysis
Kidney Function Tests
Kidney Function
Uric Acid
Blood Tests
Common Blood Parameters
Food Intolerance
Common Food Intolerance Symptoms
Elimination Challenge Diets
FACTest
York IgG Test – Food Scan
Full Blood Count
Erythrocyte Sedimentation Rate (ESR)
Sex Hormones
DHEA-S
Leukocyte Count
Thyroid Hormones
Red Blood Cells
RDW
Biochemical Parameters
Blood Fats
Triglycerides
Blood Glucose
Liver Enzymes
Bilirubin
Jaundice
Pancreatic Enzymes
Hair Mineral Analysis
Mineral ratios
Calcium/Phosphorus Ratio
Sodium/Potassium Ratio
Sodium/Magnesium Ratio
Zinc/Copper Ratio
Iron/Copper Ratio
Saliva Analysis
Candida
Adrenal Stress Index Test
Adrenals
ASI sample report –
Exhaustion phase
Female hormone panel
Naturopathic Diagnostic Techniques
Facial signs
Iridology
Tongue diagnosis
Nail diagnosis
Bio-electric testing –
e.g. Vega
Reflex zones
Certification
After you have completed Anatomy and Physiology Course (Part II), you will be eligible to take a final course exam to qualify for an ASNH Certificate of Anatomy and Physiology Course.